How to Join Multiple PDF Files into One on Mac OS
In this tutorial we will look at how to join multiple PDF files into one on Mac OS. And there's no better tool for that than PDF Merger Mac. This application provides a reliable method for merging multiple PDFs into one.

There are tons of reasons why you may want to do that. For starters, combining PDF makes for easy sharing. If you have 10, 20 or more PDF files that you need to send, you can combine them into one file and send it as a single attachment rather than having tens of different attachments.

Besides, combining multiple PDF files can help with your research work or report preparation if it involves using multiple sources. Instead of moving back and forth from one PDF to the next, you can simply combine them into one document and use it as your source. Doing that will save you the time and effort that you would have spent searching for this or that file.

There's also the issue of printing. Rather than opening each PDF file and printing it individually, you can combine them and send the "Print" command for a single document. That too should save you a ton of clicks and time.

Finally, joining multiple PDFs makes it possible to add new pages to an already existing file. Imagine you've done and completed a project. But then you realize that one page needs some corrections.

The sensible thing to do would be removing that page and replacing it with one that has all the mistakes corrected. You can only do that by merging the new page with the remaining parts of the project.

All the above goes to say that there's every possibility that you will need to merge PDF files at some point. You can always count on PDF Merger Mac to make that job a breeze.


Benefits of Using PDF Merger Mac
- The final document will retain the same quality, formatting, page size and orientation as the original.

- PDF Merger Mac allows you to determine the sequence of your PDF files. You get to decide which one goes first, second, third and all the way to the last one.

- The program can merge over 1,000 PDF files in just a matter of seconds.

- It's 100% clean and doesn't have any malware or adware.


How to Use PDF Merger Mac to Join Multiple PDF files on Mac OS
Step 1. Download and install PDF Merger Mac on your computer.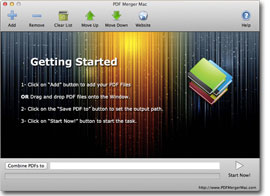 You can get the installer on this page.

Note that this PDF software is compatible with Mac OS X 10.8 (Mountain Lion) and all newer versions.




Step 2. Add the PDF files that you want to merge
Click on the "Add" button to browse your computer and add all the PDF documents that you want to combine.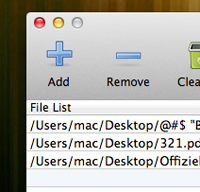 You can also add documents by simply dragging and dropping them on the PDF Merger Mac interface. They will all be added as long as they are in PDF format.

If you happen to add a wrong PDF file, you can remove it using the "Remove" icon. And if you want to remove all the files, click on the "Clear List" icon.



Step 3. Adjust order of PDF if necessary
You may want to reorder your PDF files so that the final document adopts a particular sequence. You can do that by moving the files up or down using the "Move Up" and "Move Down" icons respectively.





The other way of adjusting the order of PDF files is dragging them. Hold the file that you want to move and then drag it up or down until it reaches where you need it to be in the sequence.




Step 4. Choose the output folder
You can either browse the folder that you want your merged PDF file to be saved in or simply enter its path. Either way, PDF Merger Mac will remember the path and save your files there.


Step 5. Start combining PDF files


Click on the "Start Now!" button to merge your PDF files into one document.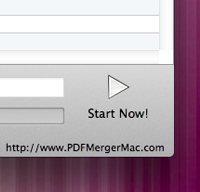 One of the handiest features of PDF Merger Mac is that it has a progress bar that you can use to see how far along the process is. Not that you will wait for long because it only takes a few seconds.

Once the merging process is complete, the PDF merger will save your final document in the output folder that you set. And that's all about how to join multiple PDF files into one on Mac OS.



If you want to combine PDF files on Windows, please check PDF Combine which is a PDF Merger software tool for Windows.
Other useful Business and PDF Tools:
PDF Anti-Copy
PDF Text Replacer
PDF Eraser
PDF Compressor
Excel Merger